Patents Integrated provides added value.
Patents Integrated provides added value beyond those offered by business consultants, product development services, and patent law firms because we bring a holistic perspective to evaluate your patent portfolio, based on our deep experience in growing, negotiating, and defending intellectual property assets. We can ensure that your business, technical, and legal strategies are integrated to support your company's goals.
Our three-pronged approach
We approach each action from three perspectives:
BUSINESS
Is it in alignment with corporate strategy? Is it fiscally responsible?
PRODUCT
Does it help you to create a unique and useful product for your target market? Does it protect your competitive advantage?
LEGAL
Does it mitigate current and future risks for the company? Does it protect corporate assets?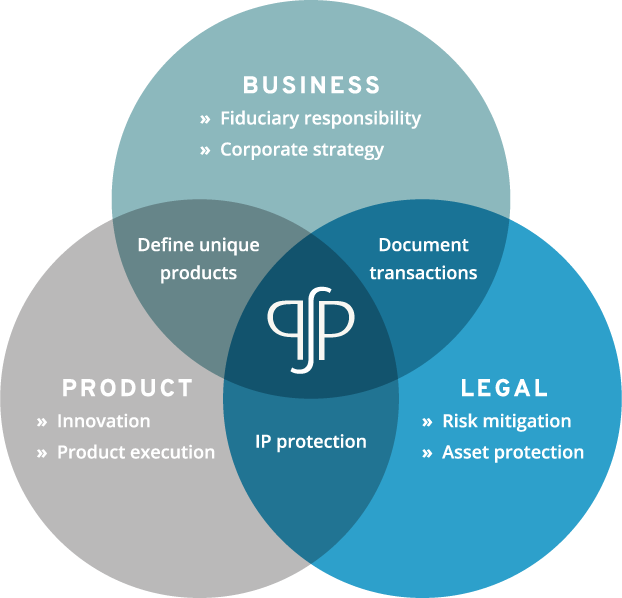 ---
Our services
Some examples of Patents Integrated services include:
Custom IP strategy
There are many ways to protect your innovations. Patent Integrated will formulate a custom IP strategy for you, taking into account your business goals, technology capabilities, and legal landscape. With our experience throughout the innovation lifecycle, we provide a holistic perspective to create an actionable strategy to fit your needs.
Patent drafting and prosecution
With over 20 years of experience in obtaining patent protection for entrepreneurs, Patents Integrated works with innovators in navigating the patent application process. We can prepare, file, and prosecute patent applications that protect your intellectual assets and help provide a business advantage.
IP screening and due diligence prep
If you are looking to invest in a technology company, or if you are a technology company getting ready for investment, Patents Integrated can help you identify and fix IP issues before they can sink a deal. For investors, we can screen the IP components of opportunities to weed out those with potential red flags. For entrepreneurs, we can prep your IP portfolio so that you'll be ready to answer any IP-related question that future investors may throw your way.
---
We can help make sure your strategies are integrated to support your company's goals.
Take advantage of our free introductory discussion.
" As a new business owner, and first time filing a patent, Patents Integrated walked me through each step of the process and guided me to make educated decisions that fit within my business goals."
JEND DESIGN

Is your strategy integrated?
Find out key questions to ask yourself and see if your business, product, and legal strategies are fully integrated.